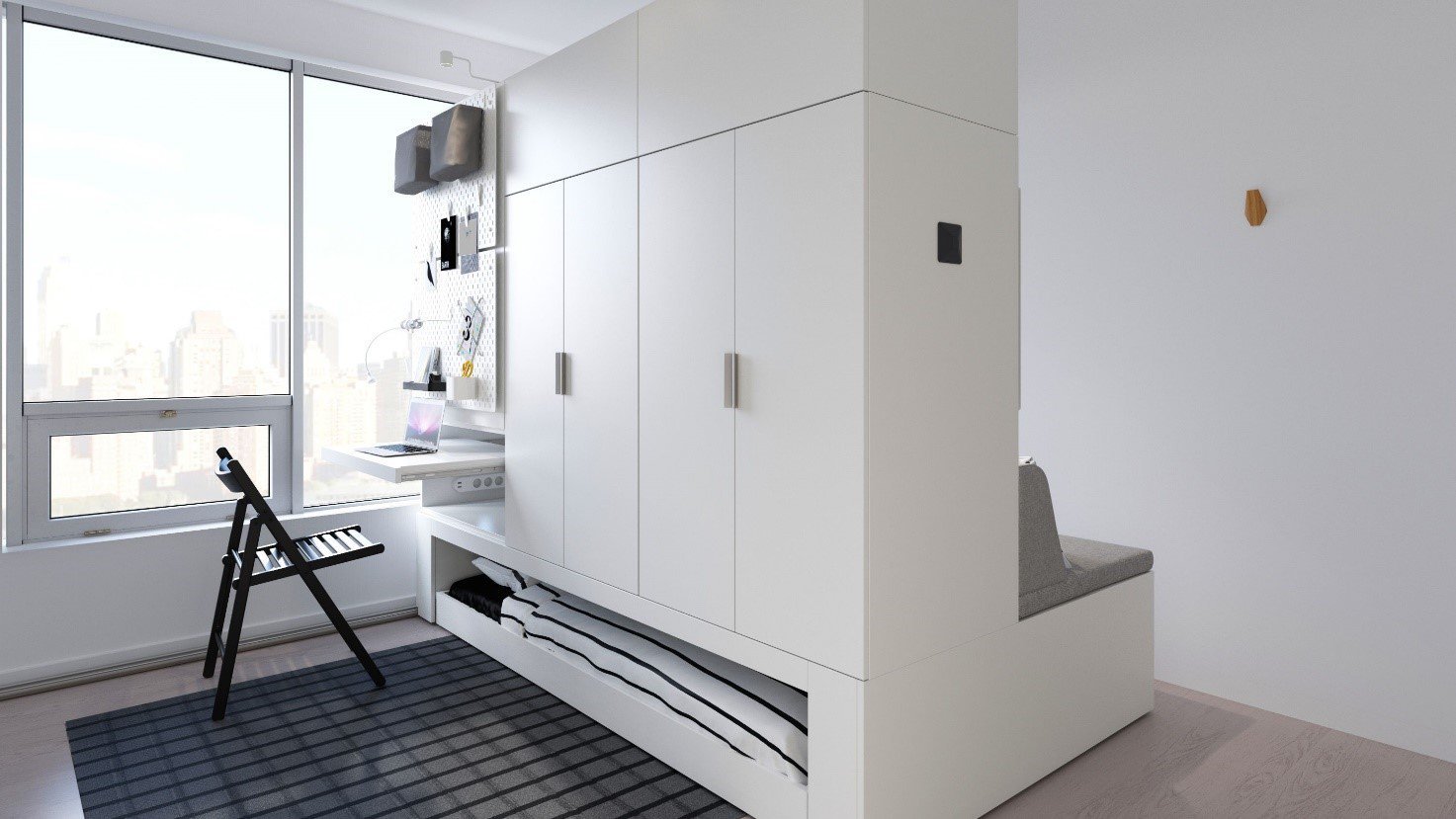 Robotic furniture
A novelty at Ikea, announced last year and recently launched on the market, precisely in Hong Kong and Japan.
Its function would be to cope with an increasingly recurring problem, namely that of living in urban areas, in ever smaller spaces due to growing overpopulation. It is estimated, in fact, that by 2050 the tendency to live in large cities will be such a widespread reality that it will be necessary to resort to more intelligent and functional methods of organizing space.
To avoid doing without some comforts, the use of technology is not enough. In fact, we need to start organizing spaces and furniture efficiently.
Precisely in this regard, the idea of ​​the Swedish multinational specialized in furnishings was born, in collaboration with the American startup Ori Living, aimed at developing a line of robotic furniture.
Studios and mini-apartments will have nothing to envy to larger spaces. In fact, the system devised contains a desk, a sofa, a wardrobe and even the bed.
A space-saving furnishing solution that develops thanks to the movement of the robotic piece of furniture on small "rails" positioned at one side of the room and controlled by a very intuitive touch pad. Not only that: the Ikea structure is also compatible with a smart lighting system.
A solution that makes it possible to transform small spaces into multifunctional homes, based on the specific needs of the user. From bedroom to living room, from study to all in one.
His name is Rognan and he can transform himself over and over again throughout the day.
The creator of this innovative product explained how it is necessary to work not so much on the creation of smaller and more compact furniture, but on the possibility of creating furniture that can be transformed and are versatile for all needs, quickly and above all conveniently.
In conclusion, it seems that Rognan can save 8 square meters: a good compromise for those who will find themselves having to choose increasingly smaller living spaces within the metropolis.
We do not yet know the details of this product, nor the prices or the possibilities of reaching other world markets, such as the Italian one.
For now, we just have to hope for further experimentation and imagine what future innovations may be, fruit of the ingenuity of the experts.