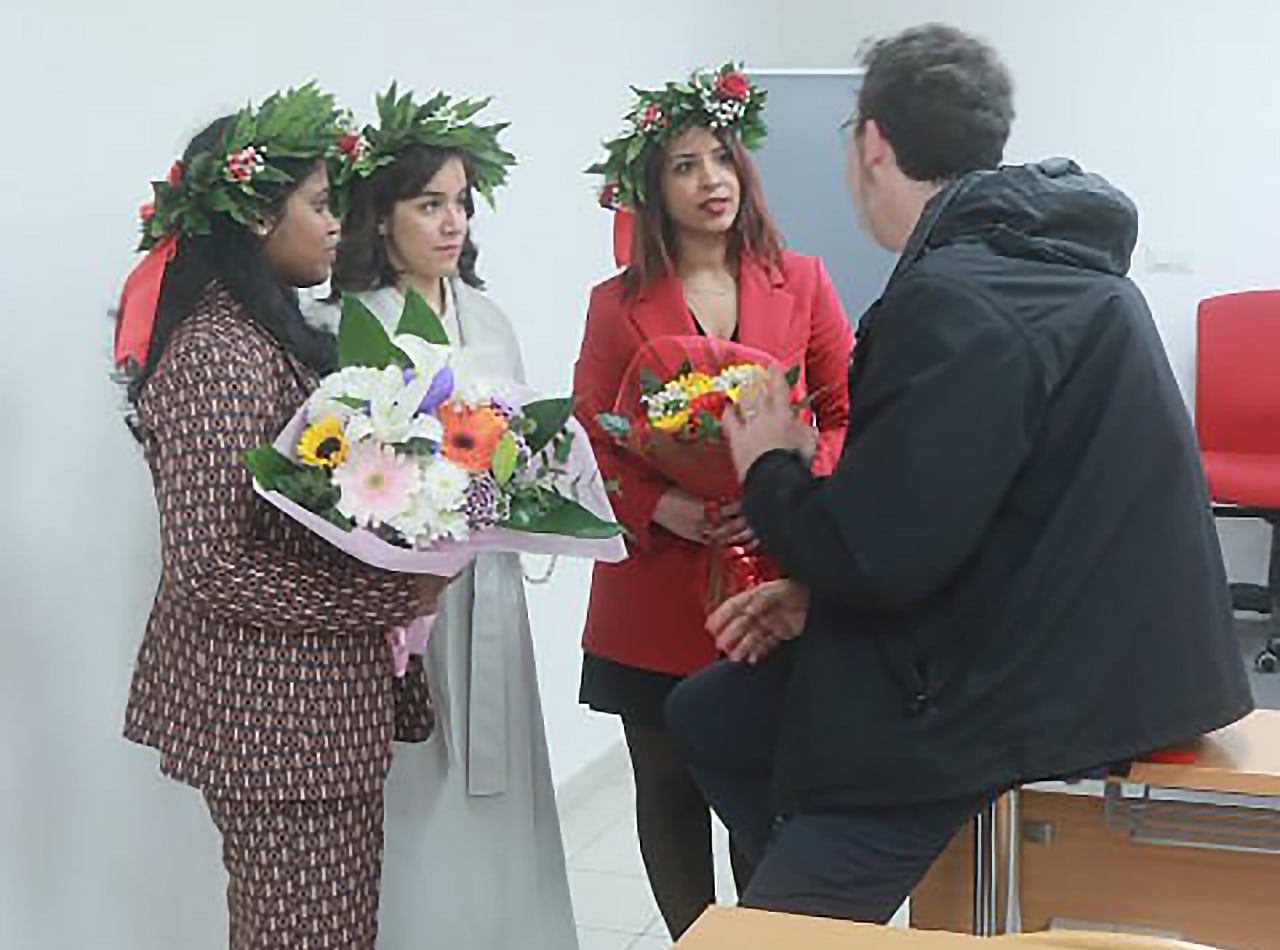 From coding camp to master in computer science
On Monday 16 January, three of our colleagues graduated from La Sapienza University of Rome in the Master in Computer Science. Behnoosh Bahavar, Aruna Tummala and Rasha Khairy approached our company through our coding camps, training periods in search of new talent in the field of IT and technology development, they demonstrated their value and were therefore hired. In the meantime, they carried out their theses, completing which they specialized in the Master in Computer Science with excellent grades and appreciation for the work done.
When we open applications for our training coding camps, we define them as a difficult challenge for those who want to acquire the ability to work in software development teams and aim for a career as a Full Stack Developer.
Great satisfactions come from complex challenges, sacrifices and daily commitment, as in the case of Behnoosh, Aruna and Rasha. Behnoosh focused their attention on DocMon, our document management monitoring tool, while Aruna and Rasha dedicated themselves to an auction management system, taking care of the design and implementation of the front-end and back-end platform respectively.
Happy and proud to have joined and supported our colleagues, we leave you with their words to tell you more about their experience.
Behnoosh Behavar
In general, taking a thesis in the industry is useful for students who want to continue their career prosperity inside the industry.
In my point of view, taking a thesis with PCCUBE company causes doing research and also working on a real project in parallel.
During these 6 months, I could work on the application which was in the developing phase. Therefore, I was part of a team and was aware of all the technical analysis and coding parts. Because of involving in the project, it was easier and clear for me to track which part of the application needs more work on it. Hence I start researching based on some difficulties and finding a solution in order to optimize the application performance.
Another significant aspect of my experience is that, since I start without any real work experience I was unable to recognize how much my idea is implementable in real work. So in the company, I had the opportunity to use senior and highly experienced people in order to discuss with them about my ideas, how can I implement them in the project, and also what possible solutions based on their experience. So it causes giving beneficial feedback. This way appropriately keeps me in the right situation.
Contrary to traditional thought about real work, Inside PCCUBE I never stop to propose new ideas or inventions, they encourage me to give new ideas, be more creative, and feel free to propose a new strategy based on my research. There for is really useful for students who have new ideas and are eager to implement them in real work or the market.
Aruna Tummala
I wanted to take this opportunity to thank you for giving me the chance to work on my thesis with Coding Camp. It has been an incredible journey, and I am so grateful for the hands-on experience and learning that I have had.
My experience throughout this amazing period, where I learned and improved new things like tools, technologies, communication skills, time management, problem-solving, real-world challenges which helped me to gain confidence personally and professionally. In this journey I met so many people, thanks for the suggestions, appreciation, and support which I received from everyone was invaluable, and I am very appreciative of the time and effort that was put into helping me complete my thesis.
A big thanks to the PC Cube company for their commitment, career structure, and freedom to work in a flexible environment. I am so glad to be part of the PC Cube family. Finally, I felt so fortunate to be able to work with such a talented team and great mentors who were always willing to help.
Thank you again for this amazing opportunity; it has truly been an honor!
Rasha Kahiry
My name is Rasha Khairy, I did my master thesis in Analysis Design and Implementation on The Back-End Part for a Platform to Manage Auctions with PCCUBE company and under the direction of Dott. Pietro Roselli as an external supervisor, which lasted for almost 6 months.
I would like to say that this experience was great for my career development.
The company provided me with the opportunity to do my topic in a real project, giving me hands-on experience and a chance to apply my knowledge and skills in a professional setting and gain more knowledge.
Additionally, the company offers me access to resources such as equipment and data that aid in my research and helped me to go further and deeper in understanding what my topic needs, that helped me in inventing new ideas to implement in my thesis, and helped me to develop it in a correct and more optimized way.
One of the most valuable aspects of my experience was the opportunity to work with experienced professionals who provided valuable feedback and guidance on my ideas, which greatly assisted in my research and also in developing my soft skills. Furthermore, from the practical part working in a well-organized team helped me to understand and develop the analysis and coding part in an efficient manner.
Finally, in my point of view, I think for students who are willing to gain a good insight into how to work in real cases and develop a good project, PCCUBE is a good support to achieve this goal. And I would like to express my grateful and happiness to finish my thesis at this company.